Elevating Luxury Living: Introducing AIRA Residence's Exquisite Wood Flooring
Filed under: Blog
Comments: Comments Off on Elevating Luxury Living: Introducing AIRA Residence's Exquisite Wood Flooring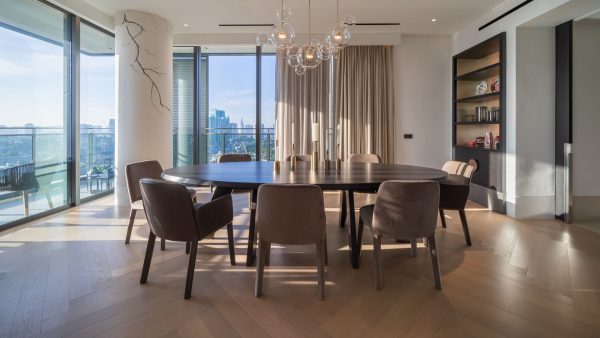 Premium oak is a perfect match with plush fittings of luxury condominium in KL.
Centrally located at Damansara Heights in KL, AIRA Residence blends design elements from the East and West to present luxurious yet functional high-rise living. Among the many elements that contribute to AIRA's opulent yet practical lifestyle, is the beautiful and hardy wood flooring. A testament to elegance and craftsmanship, here is why it is a perfect match for the classy development.
Unveiling the jewel: engineered premium oak with customised stain and UV finish
At the heart of AIRA Residence lies a wood flooring selection that exudes sophistication and grandeur. Our expert craftsmen have meticulously laid in place an Engineered Premium Oak floor, adorned with a custom stain tailored to the project's refined colour scheme. Applying an UV finish ensures longevity and durability and accentuates the beauty of the wood.
Flooring of unmatched elegance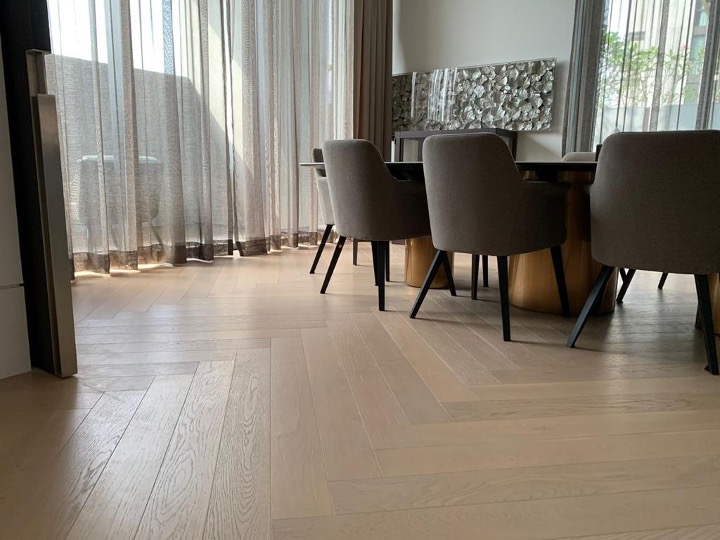 Why was this specific wood flooring chosen for AIRA Residence? It captures the essence of AIRA's luxurious interiors and elevates the overall aesthetic of the development. The carefully curated stain perfectly harmonises with the design intent, adding depth and richness to every living space.
Crafted to perfection: exquisite details and precision
The installation of the wood flooring at AIRA Residence demanded unparalleled attention to detail and meticulous execution. This was because the wood had to be placed precisely in a herringbone pattern. Already finished in the factory, the engineered wood could also not be modified onsite to suit the conditions.  On top of this, before installation, we had to stringently check for an absolutely flat sub-floor, to provide a suitable canvas for this stunning masterpiece.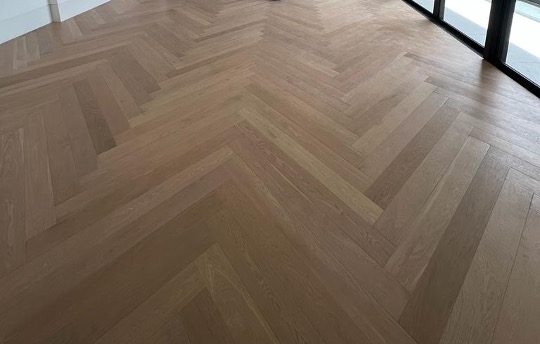 Seamless integration: where wood meets marble and beyond
Extensive preparatory work was done to ensure the wood flooring's flawless integration with other luxurious materials, such as marble. The wood was cut with precision to terminate exactly where it met other materials; besides marble and other flooring, this also included exposed beams, sliding doors and junction box covers, showcasing the team's practised craftsmanship. The result is a seamless, uninterrupted flow that pairs with the overall allure of AIRA Residence.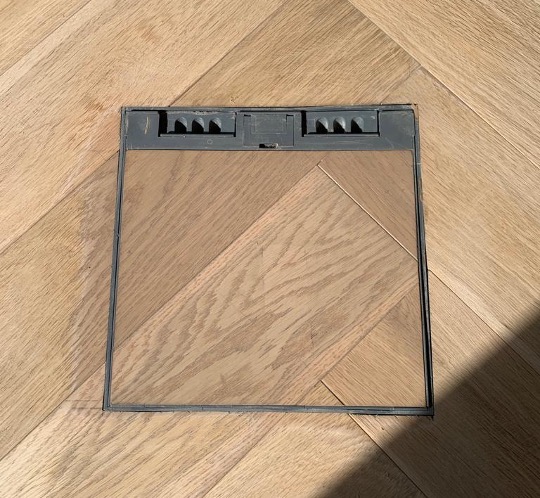 Wood planks were meticulously cut to produce seamless junction box covers in the herringbone pattern
AIRA Residence's wood flooring is a captivating symphony of beauty and craftsmanship. With its tailored stain, UV finish, and thoughtful integration, the oak flooring elevates the luxury living experience to new heights. Choose from our range of classic, premium and royale floorings to likewise wonderfully enhance the living experience of your home.
All images credited to AIRA Residence.